Dec. 7, 2015
[The Pride of Japan Technology] PT-Touch Switch: M5×17mm The world's smallest precision switches
Little Big Heros behind manufacturing
M5×17mm, the world's smallest size.
Ultra Small Size Positioning Switches [PT] are small heros who secretly support manufacturing all over the world by "precision positioning".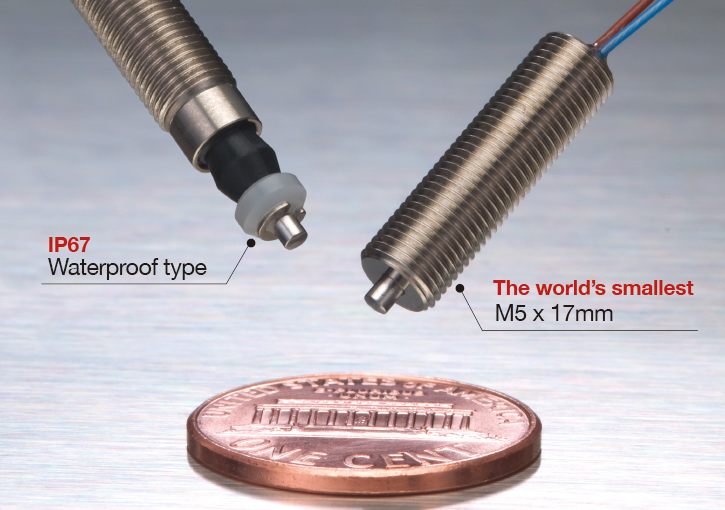 The origin of the development was the result of troubled engineers
The first idea for PT-Touch Switches dates back to 2006.
Large-scale semiconductor device manufacturers called saying,
"The compact switches we currently use are problematic as they often break. I want a tough yet compact and highly accurate switch!"
The 3 key target performance characteristics demanded by the user are summarized below.
・Switch diameter M5 and the length should be less than 18mm. 
・Contact life time should exceed 1 million. 
・Repeatability shoud be 1/1000mm.
Currently, slim and high accuracy switches are available,
but they do not stand up to both the size and durability required by the user.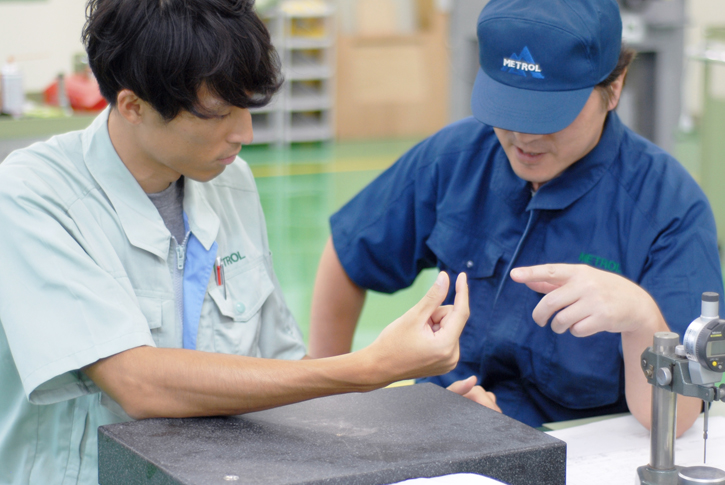 In response, mechanical and design engineers teamed up to develop an ultra-compact x high accuracy switch with great durability, capable of at least 1 million switchings.
"Small size makes molding difficult!"
A blueprint was drawn up based on customer requests,
with veteran mechanical engineers carving out parts one by one.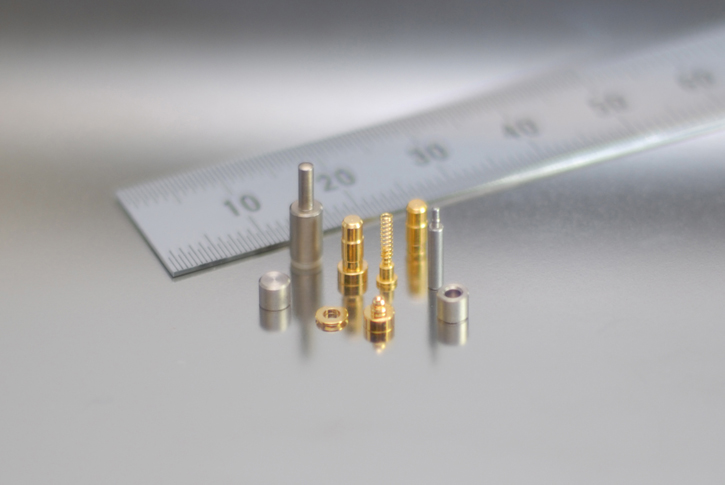 However, a crucial flaw was discovered when it came to assembly…
The key product contact components did not bend in the correct dimensions.
The small component size warped even with minimal force.
We continued on a trial-and-error basis but could not prevent the warping from occurring.
Reverse Thinking
"If the component is warping, can't we create a component that doesn't bend?"
After plenty of thought and testing, a 1-location simple structure was decided upon to replace the complex 2-location bending structure.
The load caused from bending is small so the components don't warp and product assembly was made possible with the diameter M5 x length 17mm size.
After assembly, the durability tests exceeded the customer requests of 1 million switchings and in fact achieved 3 million.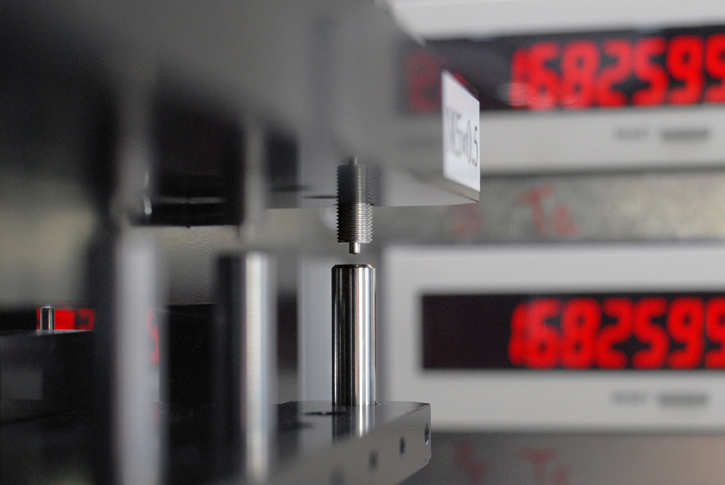 The last point was to achieve repeatability of 1μm.
However, a new issue arose in the face of the now-confident engineers.
The 1μm repeatability barrier
We had cleared the external size and durability issues, but the product repeatability was 10μm.
A far cry from the desired 1μm accuracy…
Immediately, mechanical engineers worked to carve out new products with shapes changed on the micron scale.
They had to trust their product sense.
They had the skills of experienced mechanical engineers who could think of assembly processes and create small component technology to fit into the final dimensions even without pre-formed plans.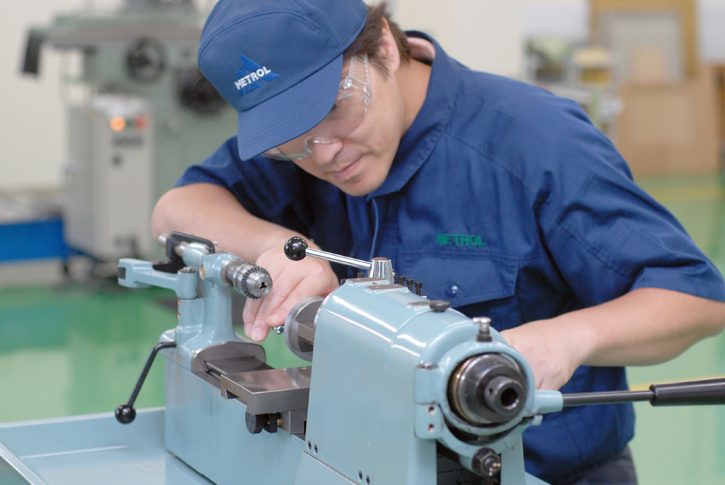 Each time a component was cut through trial-and-error the repeatability was increasing,
but the super-compact size, smaller than a dime, meant that even minor machining variation would determine the repeat accuracy.
A new and improved contact pin shape was created to satisfy the required accuracy consistency.
Finally, with this 1μm repeatability was achieved!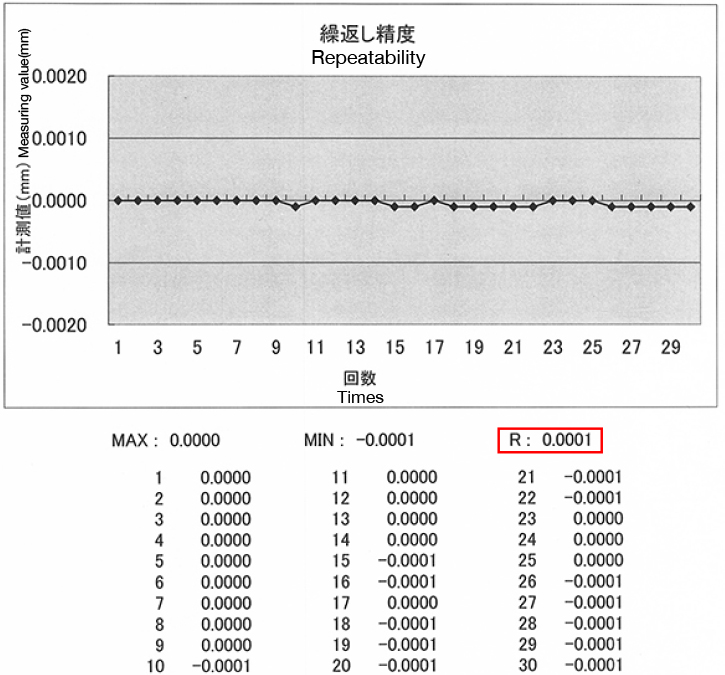 All that was required was a little hand soldering!
But… that raised the next issue — mass production
As completion approached and mass production was to be considered,
issues with production technology came to the fore.
Precision assembly of PT Touch Switches would require advanced production technology.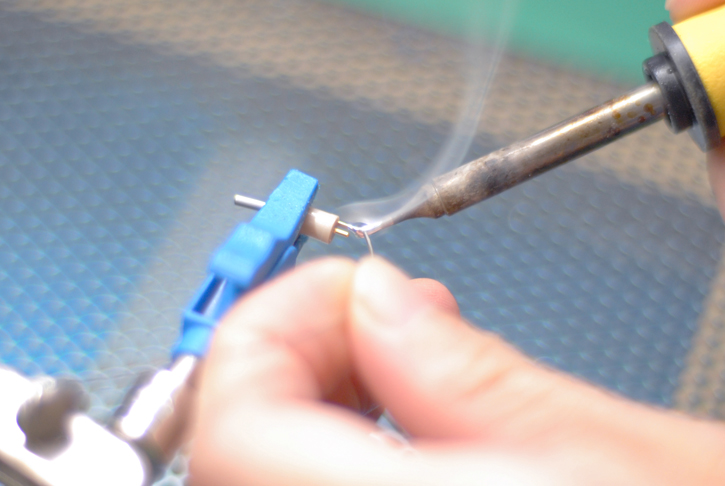 In particular, the solder that connects the super-fine cord and contacts would require the absolute most advanced technology.
But only the most experienced workers could achieve such soldering.
In response, we decided to introduce a soldering robot such that even unqualified people could easily solder the joint.
A special set jig was developed that fixed the super-fine cord in place to automate precision soldering.
Anyone could now perform the precision soldering at the press of a button.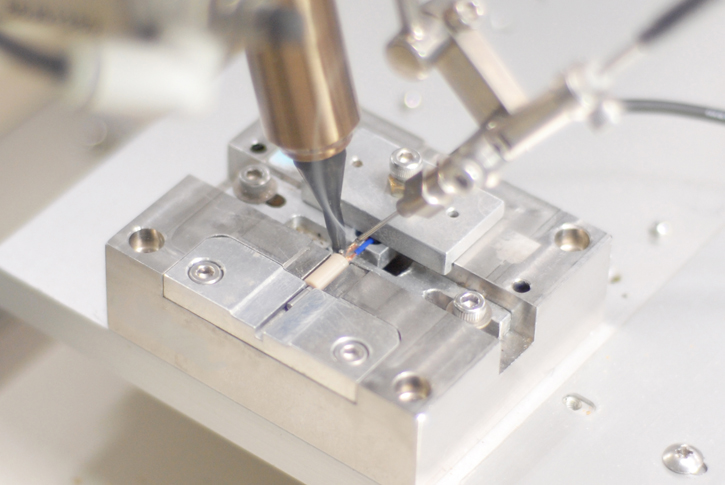 Too small in size for melt injection!
The adhesive injected into the product takes 24 hours to cure, causing major productivity issues.
The adhesive is absolutely necessary to protect the internal structure.
Instead of the regular adhesive, we thought of using hot-melt, which hardens at room temperature.
We immediately requested a dedicated machine from a filler manufacturer, but the M5 ultra fine size was a problem.
"The injection site is too small for uniform injection" was the reply we received.
However, once again the engineering spirit kicked into gear
"If they can't do it, we will just have to create our own machine!"
The engineers began designing a filler mold themselves.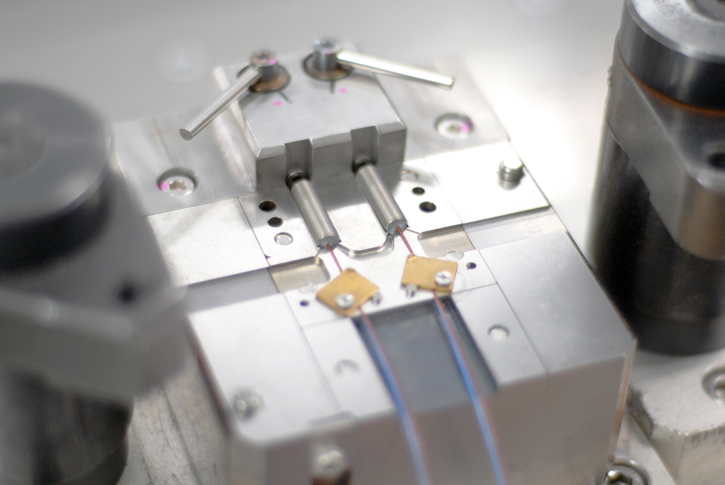 Relying on intuition and adjusting at the micron level, soft pressure is applied to the fine M5 internals, creating a hot-melt filler mold.
This allowed uniform hot-melt injection to be achieved.
The curing task that previously took 24 hours had been dramatically shortened.
Technology condensed into a small body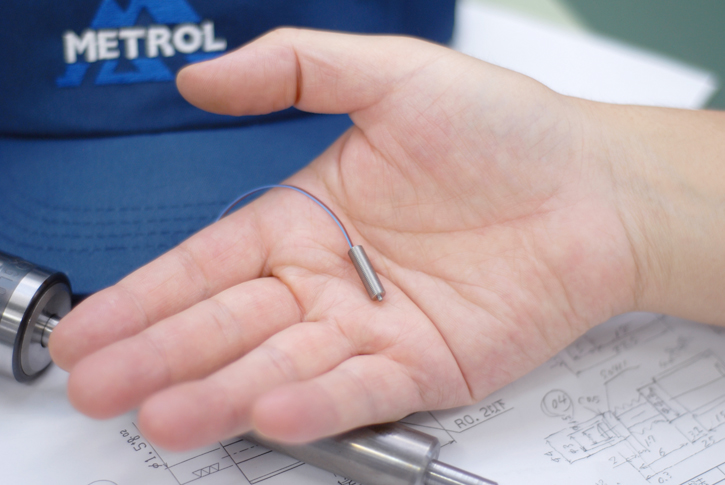 In this way, the Ultra Small Size Positioning Switches [PT] was born through advanced machining technology and precision assembly technology.
We realized,
・M5×17mm size
・3 million contact life time
・1/1000mm repeatability
The world's smallest size enables an installation in a space-limited environments.
As the switch are only made of precision mechanical components,
temperature drifts due to external environments or self-generation never occur.
Guaranteed high reliability!
Loved by engineers worldwide and adopted into various machinery including the latest semiconductor production devices, neurosurgical microscopes, CNC compact lathes and more.
An accurate positioning switch with a size smaller than a dime.
This is the spirit of engineers and the art of technology, inventing not just products but entire production equipment.
Find This Product Here!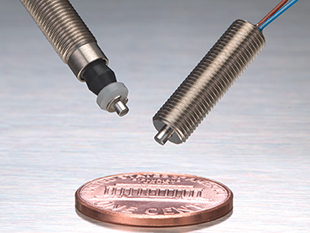 M5×17mm, the world's smallest!
Realize machine downsizing and improve accuracy
through 1μm repeatability & 3 million life time.
Product No.
Output
IP
Size
LED
Worldwide
USA only
Download
PT5M1WB
B:NC
IP40
M5
–

Buy Now

Catalog
(PDF)

2D CAD
PT5M1WB-L
with

Buy Now
PT5S1WB
φ5
–

Buy Now
PT5S1WB-L
with

Buy Now
PT5M1CB
M5
–

Buy Now
PT5M1CB-L
with

Buy Now
PT5S1CB
φ5
–

Buy Now
PT5S1CB-L
with

Buy Now
PTP5M1CB
IP67
M5
–

Buy Now
PTP5M1CB-L
with

Buy Now
PTP5S1CB
φ5
–

Buy Now
PTP5S1CB-L
with

Buy Now
PT5M1WA
A:NO
IP40
M5
–

Buy Now
PT5M1WA-L
with

Buy Now
PT5S1WA
φ5
–

Buy Now
PT5S1WA-L
with

Buy Now
Switch structure
Dry contact
Repeatability
0.001mm
Pretravel
Approximately 0.3mm (A : NO) / No pretravel (B : NC)
Stroke
1.5mm
Movement differential
0
Contact life time
3 million
Contact force
IP40:0.5N
IP67:0.8N
Temperature drift
0
Operating temperature range
0℃-80℃ (Ice-free)
Contact rating
DC5V-DC24V