Sep. 1, 2017
[Factory Tour] Children on summer vacation were enthralled by our switches!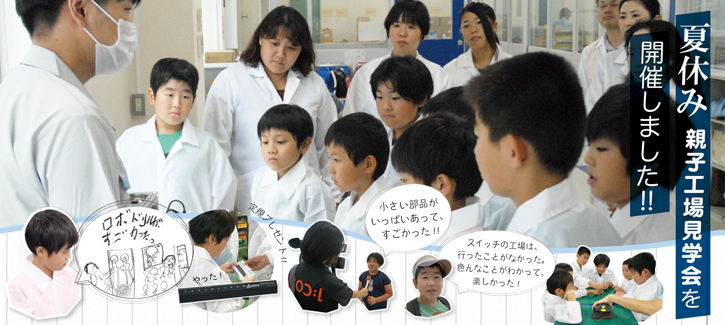 At the end of August, Tachikawa City sponsored 10 parent-and-child pairs to visit the Metrol switch factory
during the summer holiday, as a way for them to learn about excellent local manufacturing companies.
This was even broadcast on J:COM "Daily News Tama"!
Switches are completely unfamiliar in daily life.
Can we really make these enjoyable?
These are some uncertainties we had at first, but the children were extremely interested!
Children leaned forward to stare at the precise movements of the robots and when it came to helping with switch manufacturing, it was a battle for "Me first!" Overall there was active participation.
At the end, the children were each presented with an original ruler engraved with their name ♪
Everyone was happy and it looked to become a great summer vacation memory.
"The number of small parts was incredible!"

"I really enjoyed my first ever switch factory tour!"
and other straightforward and positive impressions were voiced:)
This tour could be a trigger for one of the children who participated to become an engineer
who will shoulder the future of manufacturing, or perhaps even Japan's own Edison?! (lol)