Nov. 9, 2017
Top-class size in Japan! We exhibited at the machine tool fair "Mechatronics Technology Japan MECT 2017"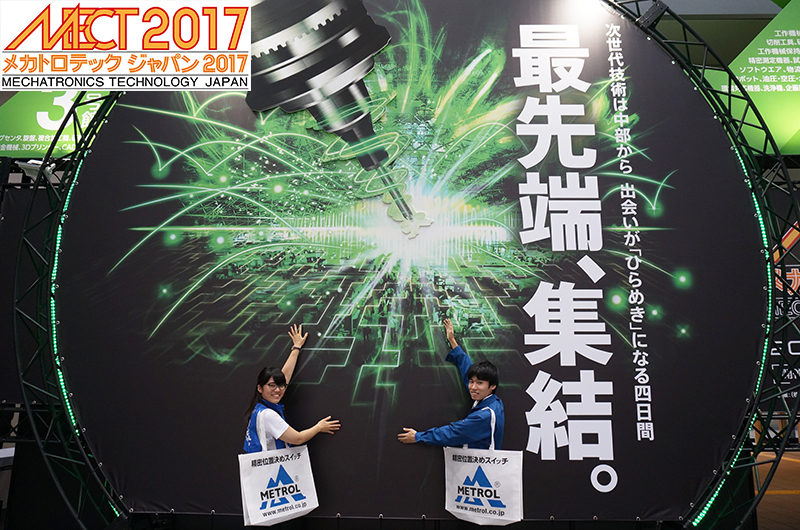 We exhibited at the machine tool fair "Mechatronics Technology Japan MECT 2017" that was held at Port Messe Nagoya for 4 days from Wednesday, 18th October 2017.
Mechatronics Technology Japan is held in Nagoya once every two years, alternating with "JIMTOF", and is the largest machine tool fair in the country.
"At the venue, the latest machining and automation technologies come together,along with more than 90,000 engineers, including those from automobile manufacturers, automobile parts manufacturers and affiliated companies.
These 4 days enabled the enthusiasm of Japanese manufacturing to be felt!"
The Metrol booth exhibited our new products which "reduce CNC machine tool precision machining defects to zero!" .
We prepared demo machines that could be used freely, enabling the products' capabilities to be experienced first-hand:)
Our "Wireless 3D Touch Probe" drew particular attention: here's a report on the product and the exhibition as a whole ♪ 
Sparks fly!? "High quality / Low price / Made in Japan" VS "Expensive imported touch probe"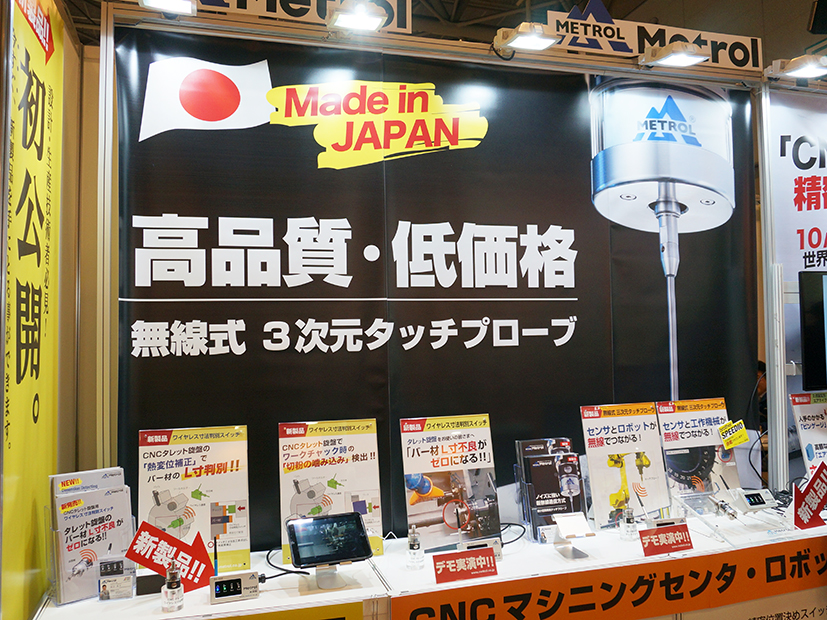 Our "Wireless 3D Touch Probe" is high quality, low price and made in Japan.
It rejects conventional infrared communication for a noise-resistant new wireless communication system.
This realizes reliable wireless communication even in factories with shielding objects or a lot of noise.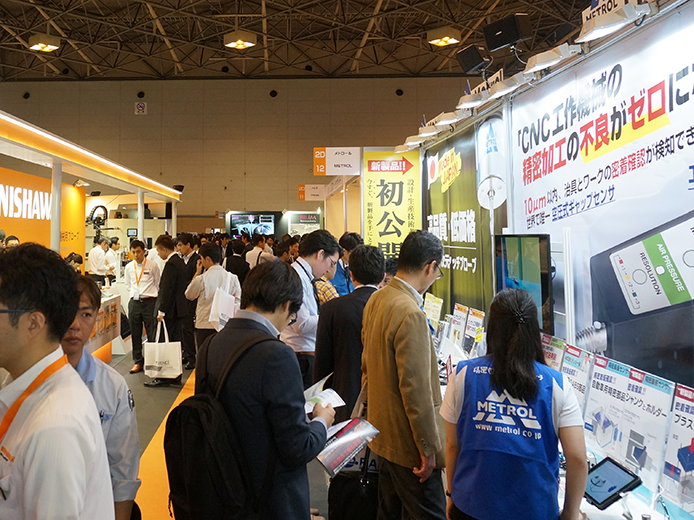 This realizes reliable wireless communication even in factories with shielding objects or a lot of noise.
Directly across from Metrol was the huge booth of a major foreign-affiliated company that mainly sells probes…!
Could this be a great opportunity!?
Not wanting to lose to an expensive imported touch probe, we nonchalantly, no, with great dignity declared "High Quality / Low Price / Made in Japan!" .
Thanks to the catchphrase (?), the visitors were saying,
"Wow, incredibly cheap!"
"Metrol is known for high precision tool setters. The wireless probes ought to be up there in precision too"
"We've always used expensive imported wireless probes, but if there is a Japan-made, high quality option available at a low price then I want to try it out!"
and other pleasing responses were heard:)
"With this product and application, it looks like zero machining defects could be achieved!
That means superb cost performance."
The visitors to the exhibition really showed their stuff, asking us any number of questions not only about product cost but also based on its practicality in actual use.
We must continue to produce new technologies and products to realize ideal solutions for our customers' production lines!
It seems that the Metrol technical team gained renewed motivation for driving further development.
We'd like to thank everyone who visited the Metrol booth.
We achieved non-stop wireless communication even at a highly noisy exhibition!!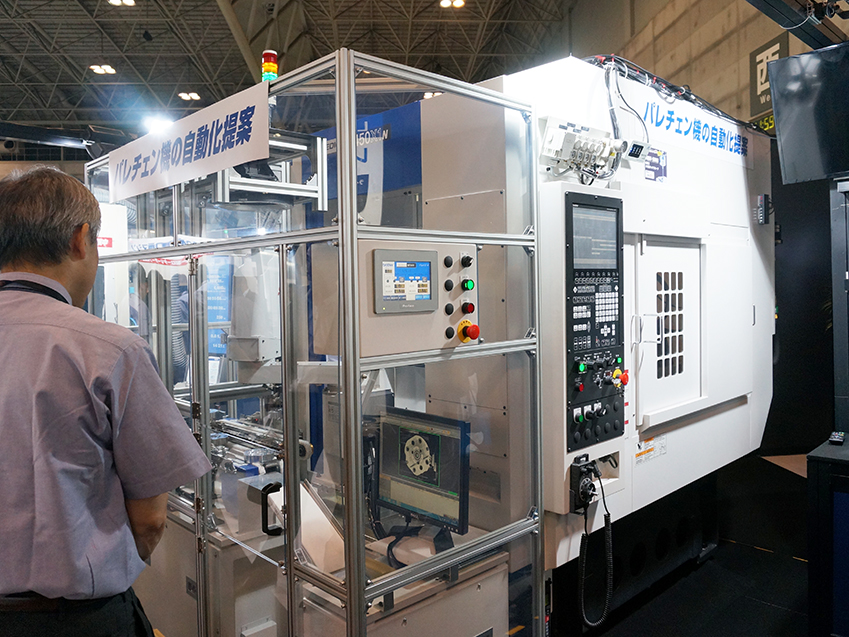 Meanwhile, at the booth of Brother Industries, a new challenge for Metrol was beginning.
The challenge was to "run a wireless communication 3D probe without any issues in the noisy exhibition hall!"
Having installed our "Wireless 3D Touch Probe" to the "SPEEDIO R450X1N" CNC tapping center demo machine, we found establishing stable wireless communication within an exhibition hall is no light task.
The venue is bursting with radio waves from Wi-Fi and electronic equipment like smartphones, creating a harsher electrical-wave interference environment than within factories.
It is clearly obvious that noise is causing interference.
Even in this adverse environment, we will achieve stable wireless communication!
With our technical team's know-how built on trial and error, we repeated careful testing from the day before the event started and made adjustments that allowed us to conduct the project successfully.
It goes without saying that all employees were filled with a sense of pride and relief.
Trusting relationships with customers were created by carefully addressing the issues one at a time.
At the exhibition, we once again realized that product development is an iterative process.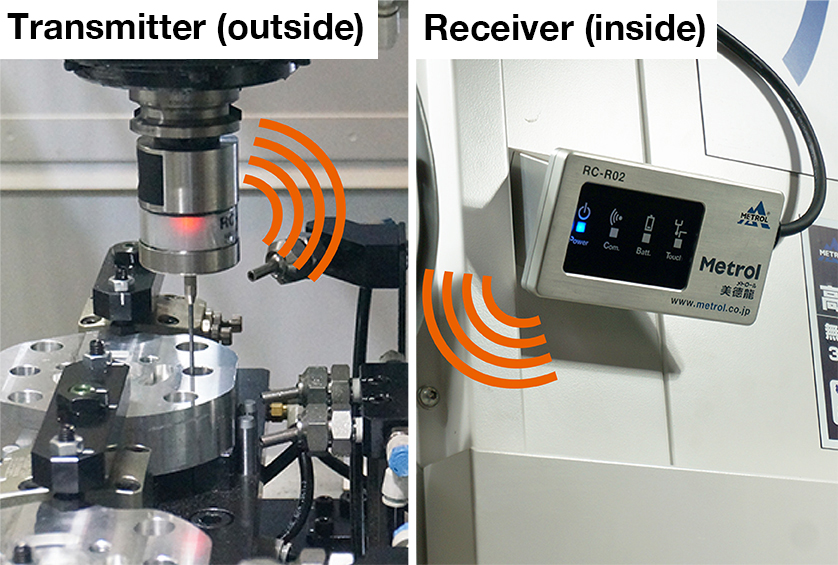 There are many people who are "somewhat uneasy about using wireless communication in a noisy factory".
"However, as we have proven, the era of wireless communication within the factory is already here.
"
Recently, "IoT" is a buzzword throughout the world.
Sensors using new technology will be indispensable in order to realize this "digitization of factories".
Metrol also contributes to the first steps towards realizing "Industry 4.0" for all!
The last exhibition for 2017 is the "International Robot Exhibition" held at Tokyo Big Sight!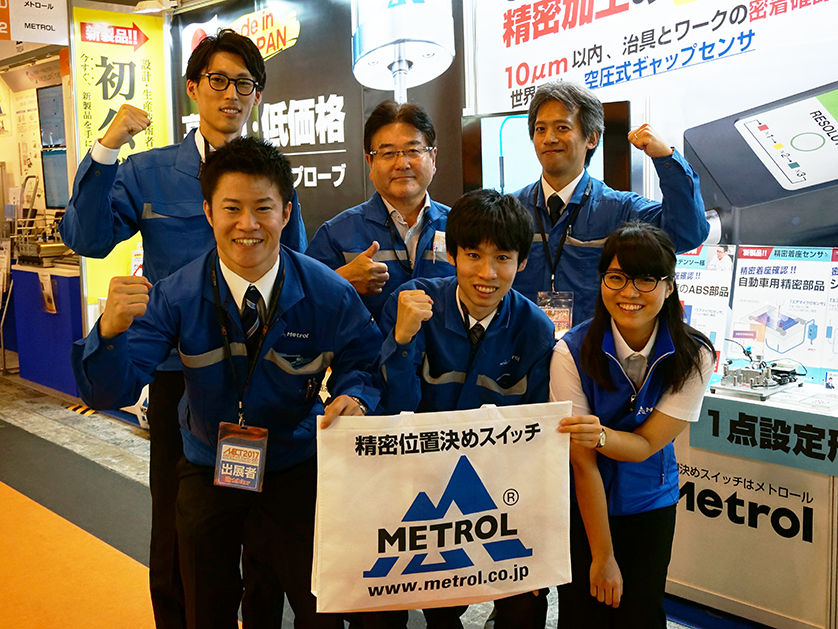 The next exhibition will be the "2017 International Robot Exhibition" held at Tokyo Big Sight from Wednesday, November 29.
We will take our recent momentum from Mechatronics Technology Japan and prepare new products and examples of the latest improvements as an exhibition suitable for closing out 2017. We will be awaiting our visitors fully prepared.
At the venue we will be lending out our products free of charge!
Please do not hesitate to visit our booth and try them out ♪