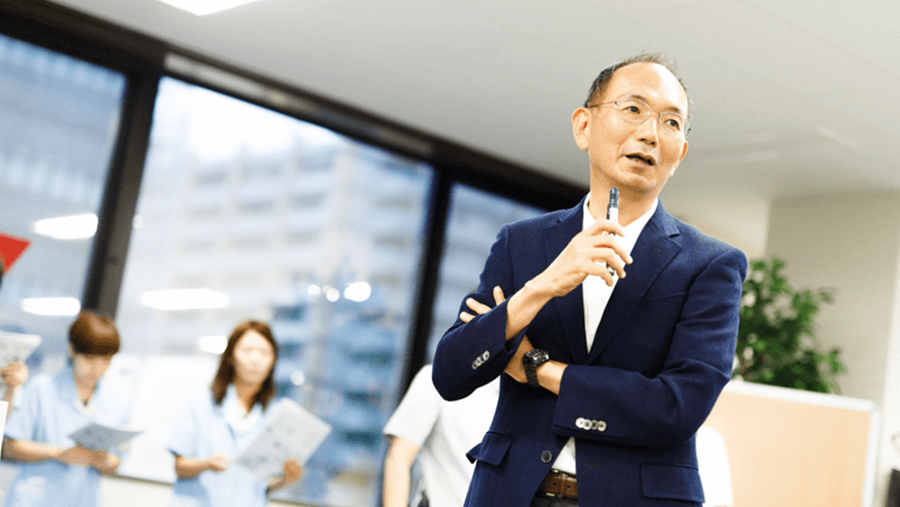 Dear all who are visiting our homepage and are interested in our company

Thank you for your interest in METROL from among many sensor manufacturers.
At METROL, we have thrived as a manufacturer specializing in the development, production, and sales of positioning sensors for industrial machinery for over 40 years since our establishment in 1978.
Our corporate name originates from "Measurement" and "Control"; therefore, METROL.
Our "positioning sensors" feature extremely high repeatability, but the sensors themselves do not have measurement functions.
However, combining the "positioning sensor" with the NC control on the machine in use enables high-performance and automation of the machine at an extremely low cost, and contributes to preventing defective products.
More specifically, our sensors are used by various industrial machinery builders across the world because of their high performance even in adverse environments, such as tool length measurement in machine tools where cutting oil mixed with metal powder splashes down, or in semiconductor manufacturing processes where temperatures can reach 200°C.
The following are our product policies.
Highly precise sensing is achieved by combining the three elements of measurement: mechanical (outside diameter), pneumatic (inside diameter), and electrical technology.
By adding pneumatic, electric capacity change, and wireless technology to conventional precision mechanical technology, we develop highly original sensors that are unparalleled in the world and thereby generate new markets.
Made-in-JAPAN Quality
Our commitment to Japanese manufacturing means that more than 90% of our parts are manufactured and procured in Japan, and all parts are inspected to ensure high quality products at reasonable prices.
We offer customer-specific products. Please contact us in English.
METROL is a top global niche company in the "positioning sensor" genre, exporting to 74 countries across the globe.
We also offer custom-made to order production in small lots to match your machines.
"ROLES rather than titles, DIALOGUE rather than debate, CO-EXISTENCE rather than competition."

Our organization operates on a project basis rather than being vertically divided.
Employees can contribute to multiple projects, sometimes as a leader and sometimes as a supporter, depending on the project, making use of their own special skills.
METROL endorses the free expression of each person's thoughts and feelings in a dialogue in pursuit of the truth.
We believe that an organization can be a safe and secure place only when each employee affirms who we are as individuals and empathizes with others based on self-empathy, and that innovation is created from the dialogue that takes place in the organization.
Our company guarantees accuracy and durability under our own brand.
We do not sell narrow-margin-high-turnover products, unbranded, nor under any other brand.
We hope that our core technology and products will contribute to your business innovation.
A great thanks for taking the time to read to the end of this message.
Corporate Philosophy
Let's Go "CEPS"!!
Customer Satisfaction
Employees Satisfaction
Productivity
Speed
If you don't embrace your colleagues and your work, you won't embrace your products or your customers!
With ES (Employee Satisfaction) as our top priority, our corporate philosophy was created in 1990, before corporate and human morals became a social issue.
Based on Japanese family-oriented management, our diverse workforce, motivated by a sense of common goal, is working together as a team to develop new technologies and new markets.