Prevents defective automible parts by replacing "Air sensor".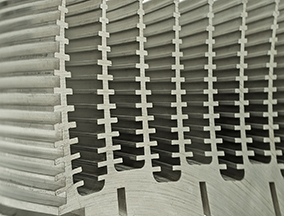 Automobile industry
The client is a precision parts manufacturer that produce heat sinks for major automakers.
A representative of the manufacturing line consulted us on "seating confiemation " of the workpiece conveyed by the robot arm.
Client's Issues
"Air sensors" have been used for confirming the seating of the heat sink which is conveyed to the pallet changer by the robot arm when machining on the CNC machining center.

Although the client set the detection distance to 100µm, because of the low accuracy of "air sensors", workppiece seating failure could not be prevented, resulting in defective products.

He found our product by sales visit when looking for a sensor that can detect the seating with ±1µm repeatability.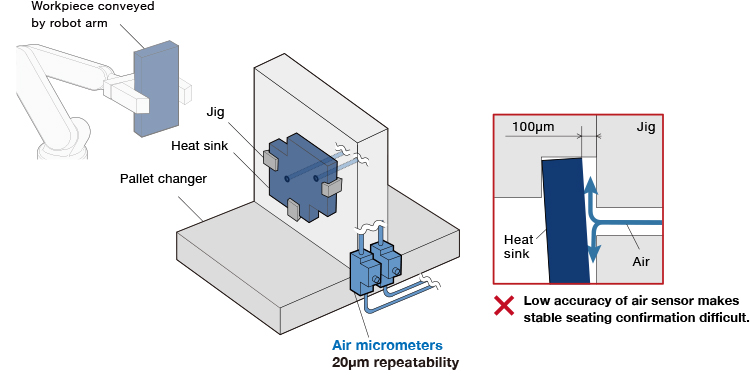 The main focus of the issues
A 100µm uplift of the workpiece shold be detected reliably.
Metrol's suggestions
However, conventional "air sensor" is intended for "existence detection" of workpieces and, because of the large signal variation, it is not suited for stable "seating confirmation".
Metrol's "Air Gap Sensor [Long range detection type]" is capable of reliably detecting a 100µm uplift with ±1µm repeatability.

Defective products can be prevented by precision "seating confirmation".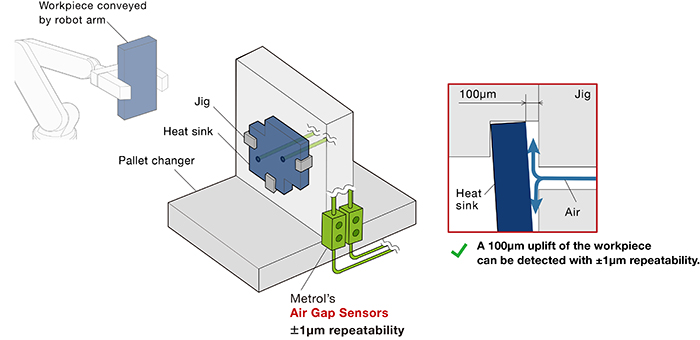 A 100µm uplift of the workpiece can be detected with ±1µm repeatability.
For further information about the products used in this application

Reconsider everything you thought you knew about "Gap Sensors".
Stably detect gaps of 80 to 350µm between a rough surface workpiece or large workpiece and jigs.