What is a Teaching System with ZERO Teaching Cost Using Touch Probes?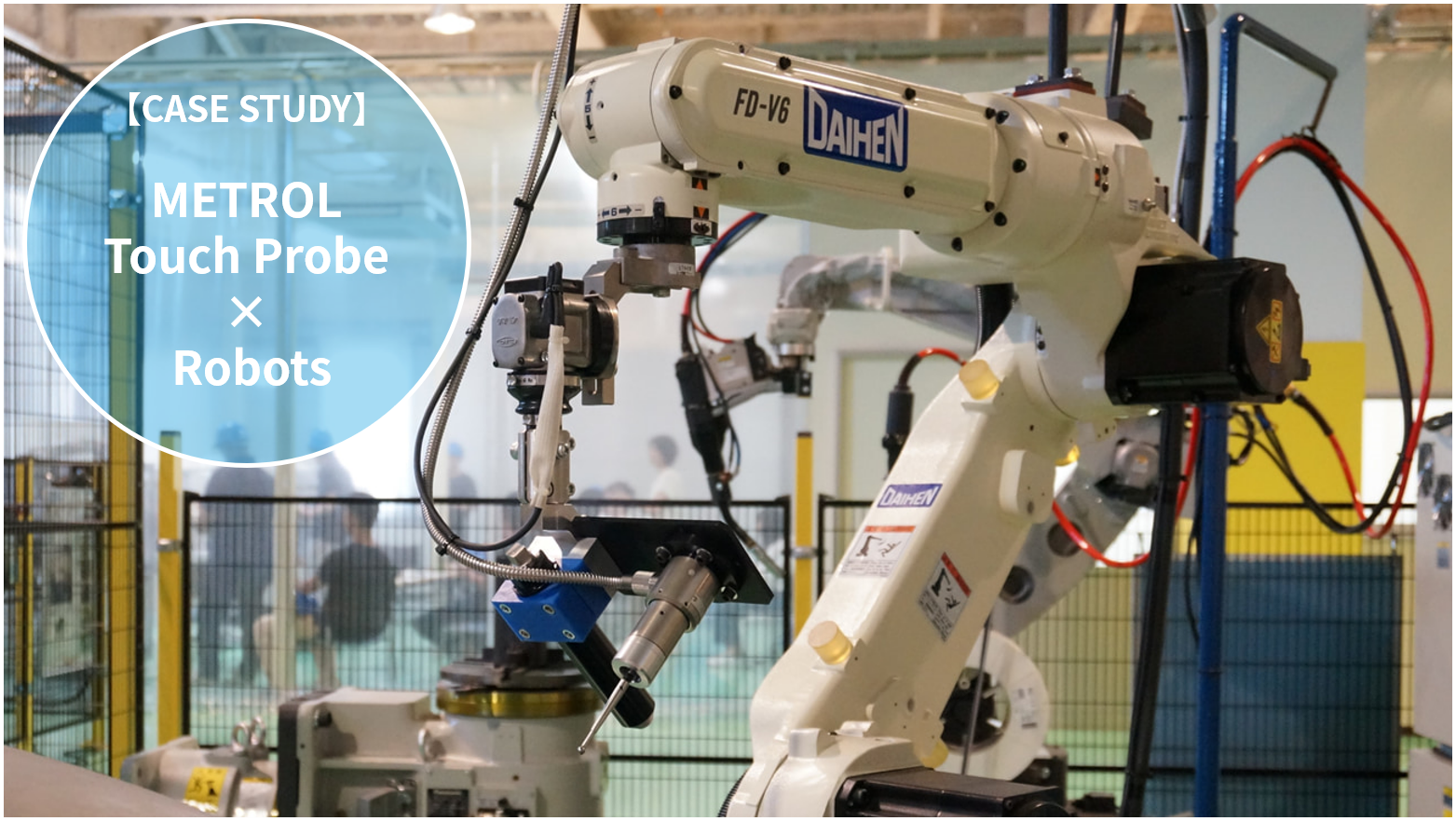 Due to labor shortages and increased work efficiency, "cooperative robots" that can work alongside humans in the machining and inspection processes are increasingly being implemented.
In recent years, robots have been required to perform not only simple tasks such as conveyance, but also more advanced tasks such as cutting and welding.
METROL develops and sells 3D touch probes for robots [K3M series].
These sensors have been used by various industrial robots, machine tools, and robot system integrators for over 20 years.
In this article, we will discuss the following two main points:
Features of the K3M series touch probes
This system automates "teaching work," which has become a bottleneck in automation.
*The system introduced in this article is a collaboration with robot system integrator Takamaru Kogyo Co. Ltd.
Main Features of Touch Probe K3M for Robots
First, let us introduce the touch probe K3M.
【Main Applications】
Detecting the position of workpiece before machining or welding
Checking the position and depth of holes in workpieces
Position compensation of workpieces
Confirmation of inside diameter, outside shape, and parallelism

【Main Features】
The robot and the probe automate the positioning of parts before machining.
The touch probe for robots can detect even when used at high speeds. This improves work efficiency.
Various product lines are available according to the user's request for precision.

【Equipment to be installed on】
Welding robot
Laser/plasma cutting machine
Collaborative robots(Universal robots)
CNC grinding machine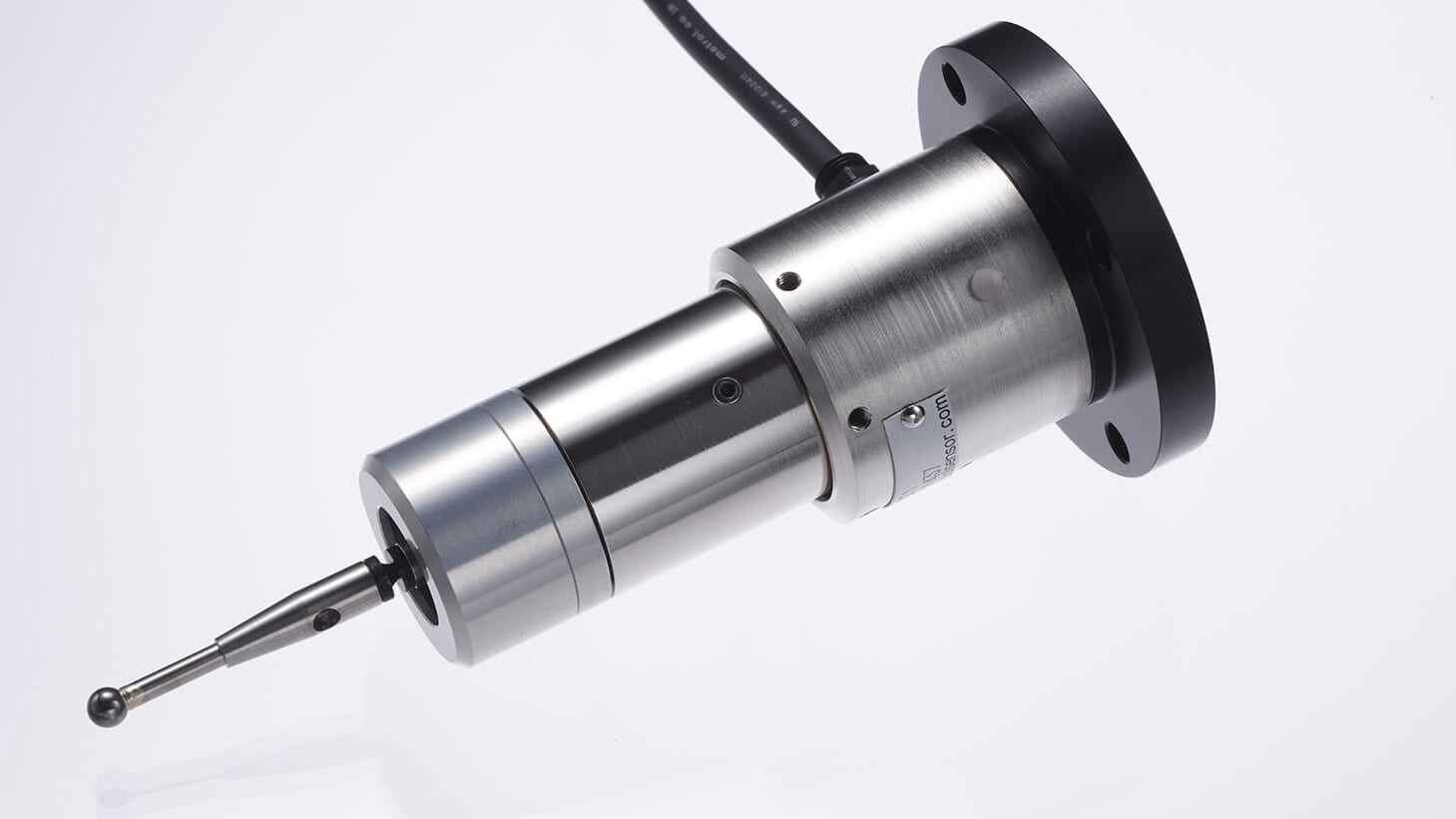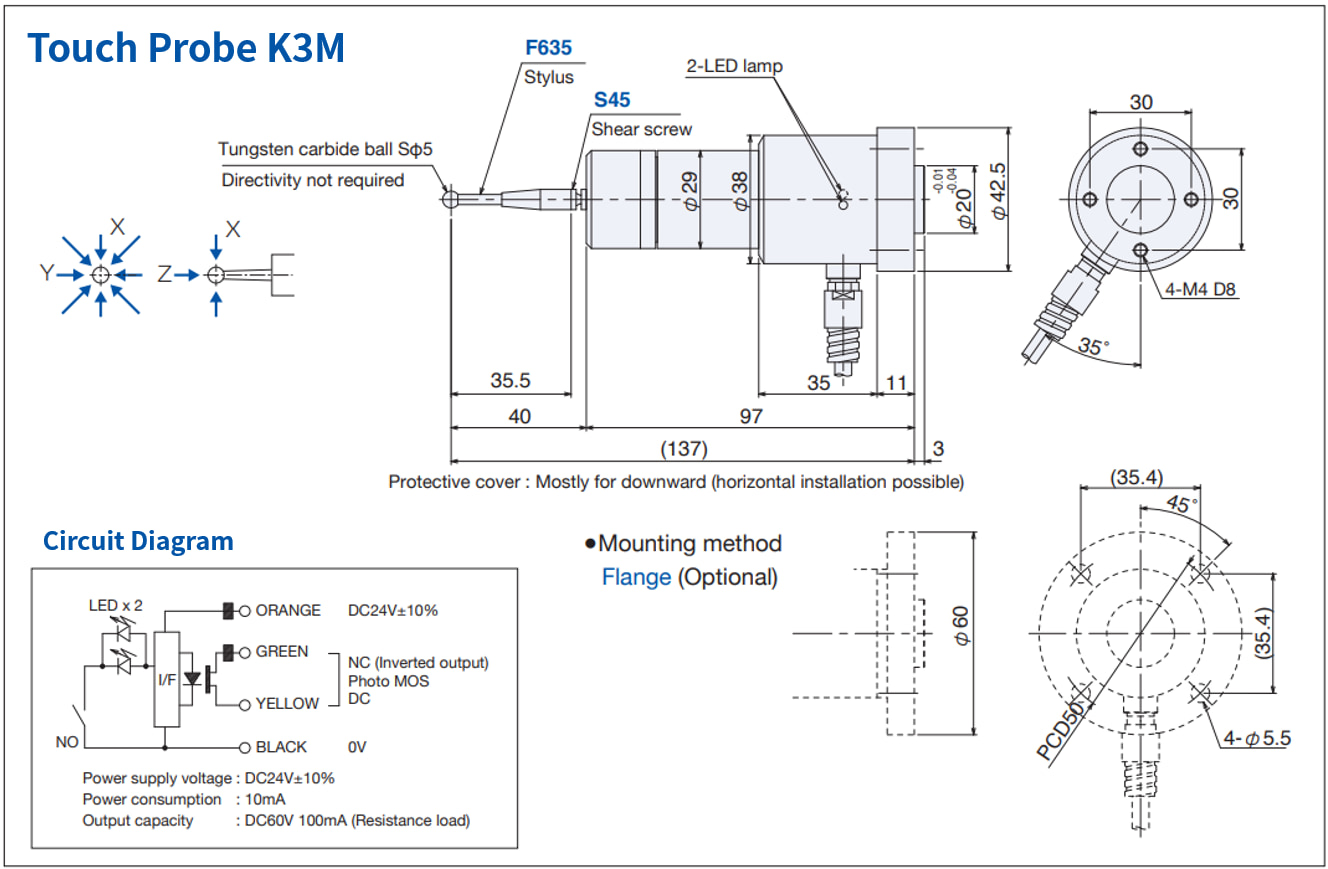 Contact structure
NO (Normally open)
Operating point repeatability
0.01 - 0.03mm (Depending on operating speed)
Protective structure
IP67
Contact rating
DC5V - DC24V
Steady current 10mA or less(Rush current 20mA or less)
▲ Standard specifications
How to Install Touch Probe for a Robot
METROL is pleased to introduce you to a system integrator regarding the installation of touch probes.

Please feel free to contact us if you are considering other uses in addition to the above case study.
Online technical consultation via Zoom, Skype, or other online services are also available.

The Mission of Automation and Unmanned Operation
24-hour operation of production lines (increase in productivity)
Eliminate labor variability, improve work efficiency and quality
Reduction of recruitment and operation costs by securing labor for hazardous operations
Secure resources by allowing workers to focus on high value-added tasks.
In order to achieve these goals, industrial robots, such as welding robots, are increasingly being implemented.
In recent years, as it has become increasingly difficult to secure workers, these tasks are dangerous and burdensome and the need to "shift from human to industrial robots" has been increasing.

In particular, the following tasks are examples of implementation.
【Purpose of Robot Implementation】
  ・Transportation work
  ・ Welding work
  ・Cutting and drilling work
  ・Sealing
  ・Coating/Painting
Challenges After the Implementation of Industrial Robots
Automation requires "teaching" process to make robots memorize work movements.
However, teaching is a difficult task, and therefore, it often becomes an issue of not being able to create robot operation programs and not having enough teaching personnel.

For simple conveyance and transport operations, the robot can memorize the motion by direct teaching.
On the other hand, for tasks that require precision, such as positioning of machining points and sensing operations, advanced teaching is required. Outsourcing teaching, which is a difficult task, is expensive.
Is it really possible to save labor and man-hours in difficult teaching tasks?
【Objective】To automate work with robots.

【Callenges】Need to create complex programs for automation
  In-house production: No teaching staff, time-consuming training
  Outsourcing to external integrators: high cost

【Needs】 Minimize teaching man-hours
What is a Simplified Teaching System That Does NOT Require Any Teaching Process?

Here is an example of mirror plate (curved surface workpiece) cutting using our touch probe K3M without any teaching all.
Challenges of automation by conventional methods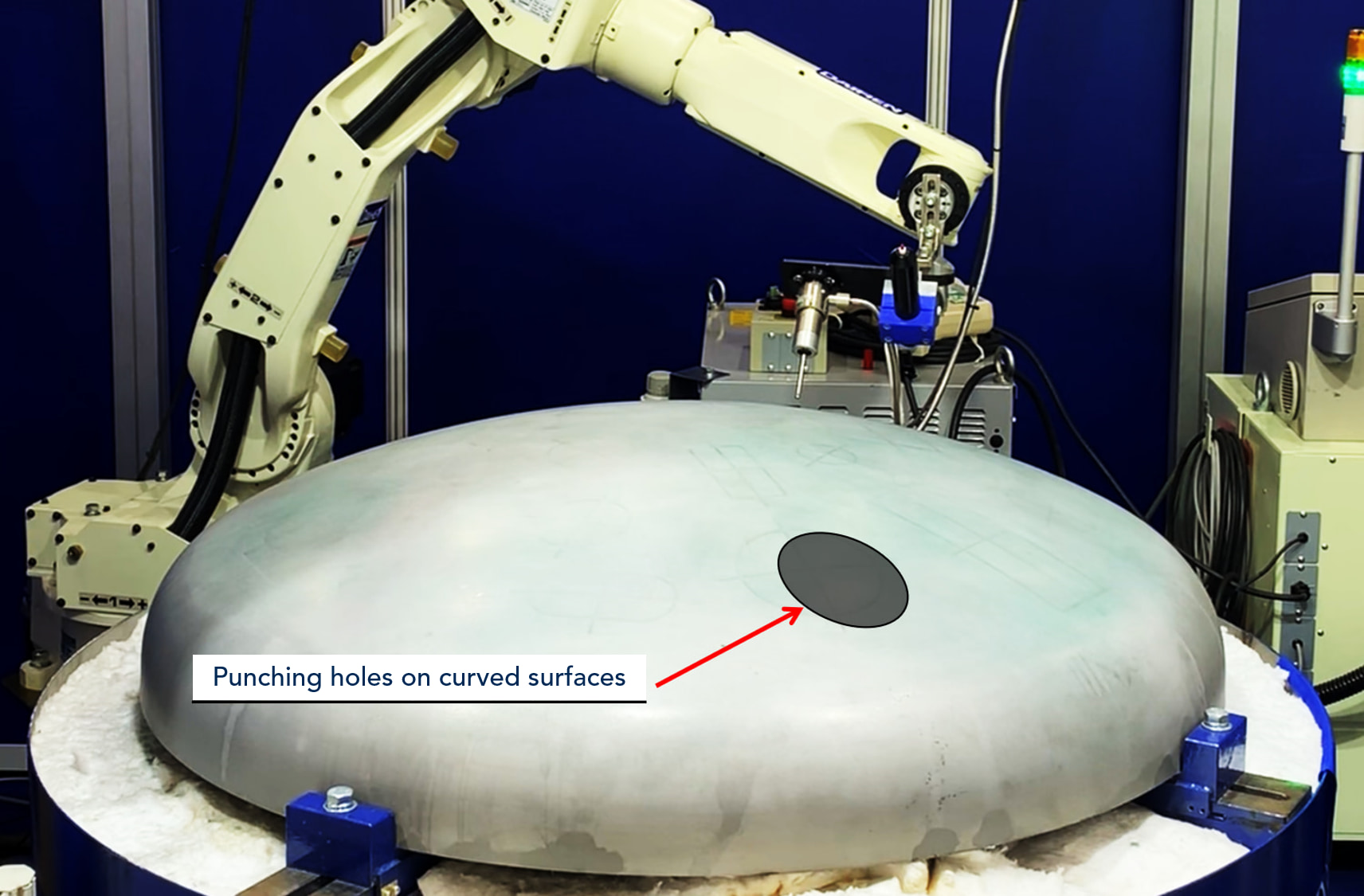 Conventionally, the following methods (1) and (2) were used.

(1) Welding and cutting after drawing the cutting hole lines on the three-dimensional surface of the workpiece manually.
(2) Prepare data on the workpiece to be processed using 3D CAD, program the data, and weld and cut the workpiece using a robot.
There are three challenges of automation by conventional methods
Difficulty in creating patterns due to the high-mix low-volume workpieces.
There is an error between the CAD drawing of the workpiece and the dimensions of the actual workpiece.
The need to draw a 3D CAD drawing and create a complex program to operate the robot within the drawing.
Outline of "ZERO TEACHING SYSTEM" by TAKAMARU ENGINEERS CO.,LTD.
Just by inputting 2D (plane) dimensional data into the operation panel, the machine can perform marking and cutting operations on curved workpieces.
No teaching process is required.
The key point is using the welding robot and METROL touch probe to get 3D information.

By touching the curved surface of the workpiece with the touch probe, the "height coordinates" of the intended hole are detected.
This enables the machine to automatically create and execute a machining program to drill a three-dimensional hole from the input 2D data of the cutting hole.

This system uses "Touch Probe K3M".

【 Demonstration Video 】Simplified Teaching System Using Touch Probe
The teaching system developed by Takamaru Kogyo automatically creates and executes an operation program for "hole drilling of end plate" without any teaching at all.
*in the video, in stead of a plasma torch, a "scriber" is held.
Step 1: Entering machined hole planar information
Enter 2D data from (1) to (3) and confirm the cutting position and size of the hole.

(1) Enter angle information
At what angle to the centerline of the workpiece is the center of the machined hole located?

(2) Enter distance information
Distance from the center of the workpiece to the "center of the intended hole".

(3) Enter the diameter information of the machined hole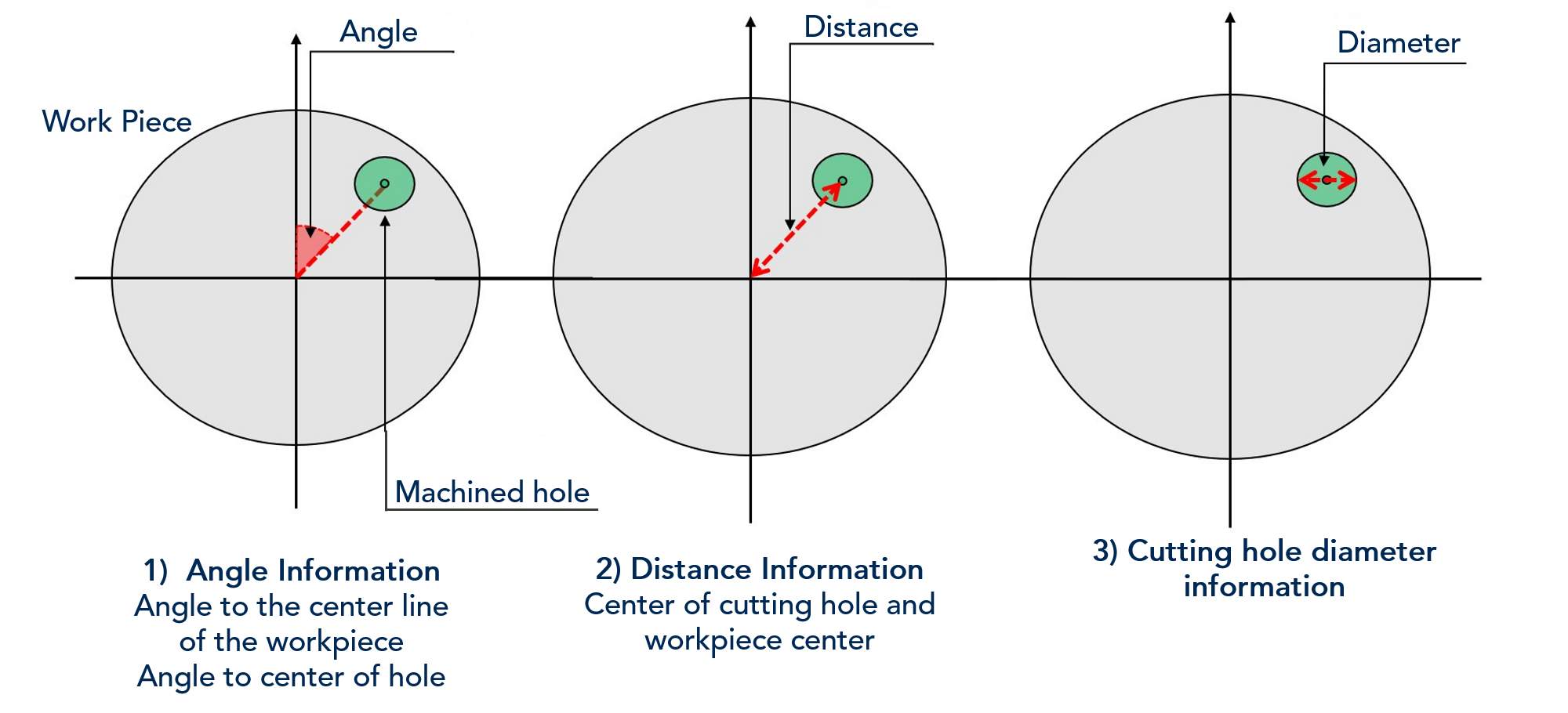 Step 2: Acquiring three-dimensional (height) information
The holes to be processed are not on a flat surface, but on a three-dimensional curved surface of the workpiece.
Therefore, the robot must be automatically programmed with 3D data and motion.
Here, the height coordinates of the machined hole are obtained by detecting contact on the curved surface with a touch probe.
【Video commentary: Order of operation】
(Based on the angle information in step )Turntable rotates
Sensor measures the height of an object ⇒Robot detects the center of the hole to be cut
Measure height information at 5 locations on the circumference where the circle passes by using a sensor.
Calculate the center line based on the information measured in 3. and actually draw (cross) lines.
Measure the height of a circular orbit at 9 locations with a sensor
The process 1 to 5 completes the acquisition of the coordinate (height) information of a plane circle passing through in 3D.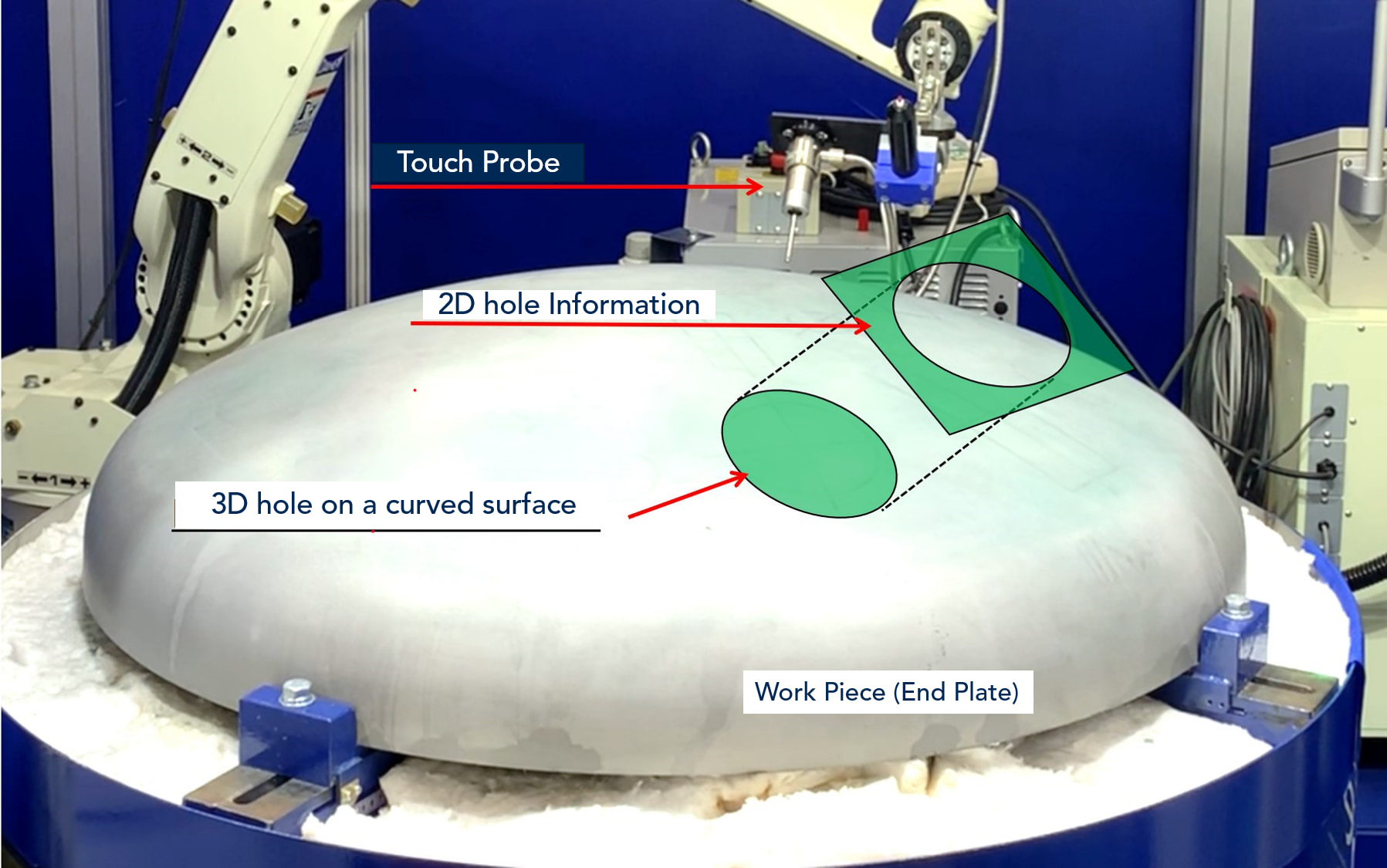 Step 3: Perform machining a hole
Robot reconfigures the holes into 3D shape work and robot performs.。
Cutting hole replaced by a 3D curved surface. (Areas marked in red)
*In the demonstration video, a scriber is used instead of a torch for red marking.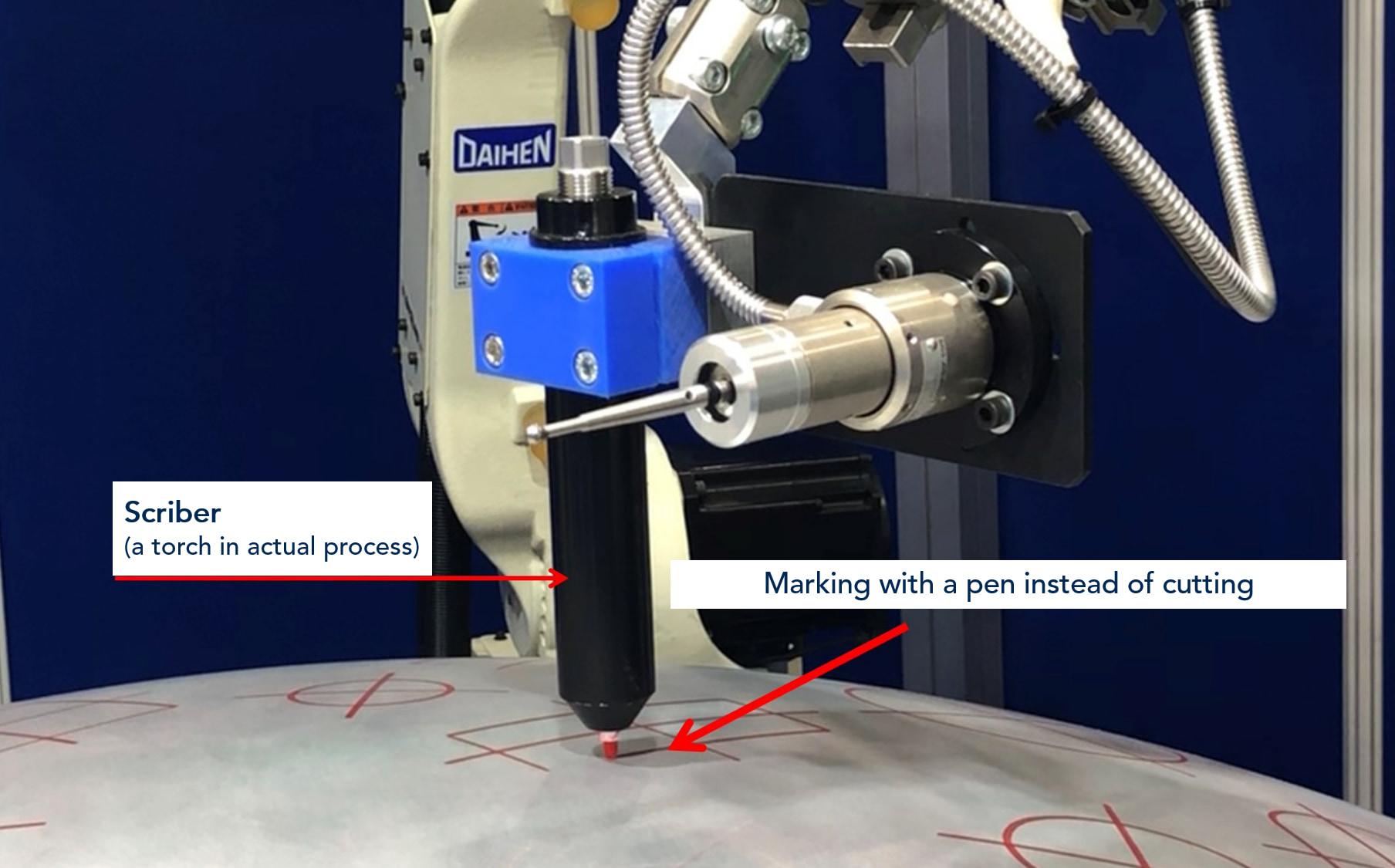 Inquiries about touch probes for robots
Please fill out this form to download our brochures and catalogs.
Products introduced in this article