Detects workpiece seating failures due to manual work of the operators with ±0.5µm precision.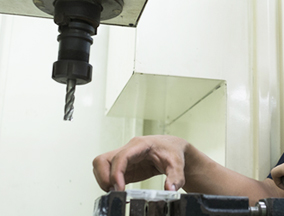 Precision machining industry
A parts manufacturer that produces large heat sinks for major electronics manufacturer. A representative of the manufacturing division consulted us on "seating confirmation" of the jigs and workpieces.
Client's Issues
Operators set the copper made workpiece on the table when machining the heat sink by CNC machining center, however, workpiece seating failures occur due to setting error.
The workpieces is often placed incorrectly on the vacuum chuck, resulting in defective products.

He did a search on the internet, looking for a precision sensor to realize reliable detection of 50µm seating failure of the workpiece, and found Metrol.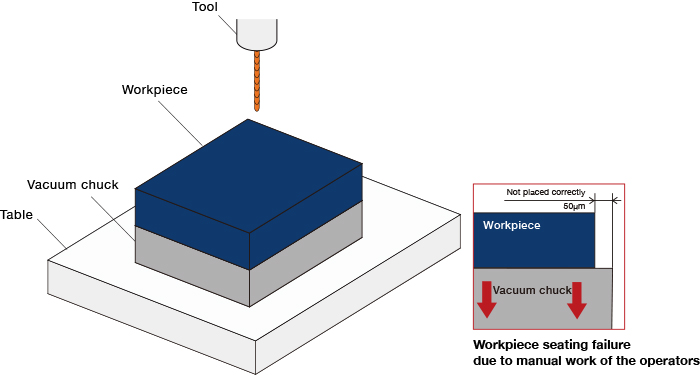 The main focus of the issues
Frequent seating failures should be detected.
Metrol's suggestions
In order to prevent defective products, workpiece "seating confirmation" before machining is important.

Metrol's "Air Gap Sensor [Short range detection type]" can detect a 50µm slight gap with ±0.5µm repeatability.
By performing precision "seating confirmation" of the workpiece and jig, seating failures can be detected and zero defects can be realized.

In addition, the sensor is resistant to harsh working conditions due to the IP67 protective structure, which enables precision detection even inside the machine tools where coolant and cutting chips splutter.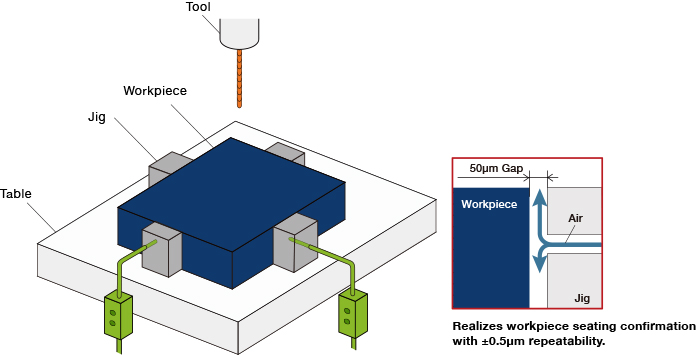 Improvements
Eliminates defective products by precision "seating confirmation" of ±0.5µm repeatability.
Comment from Metrol representative
Metrol's "Air Gap Sensor" was developed in response to demands;
"We want to prevent defective products at the manufacturing stage! "

Like the cases introduced here, it has been widely adopted in applications such as "seating confirmation of the shaft and V-shaped jig" or "seating confirmation of the die-casting component " in cutting by CNC machine tools.

If you have any trouble with defective products caused by workpiece seating failure, please feel free to contact us.
For further information about the products used in this application

±0.5µm repeatability!
Realizes precision CNC machining by precision seating confirmation of the workpiece and jig!<>