2021 Holidays Special Offers [Free shipping & Gift]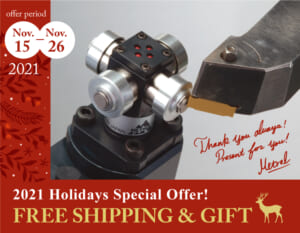 We are pleased to announce the Special offer for the 2021 Holidays.
From November 15th through November 26th, we offer FREE SHIPPING for all your purchasing at
TOOLSENSOR.COM & METROL.CO.JP.
We also offer the Special Gift , when you place an order more than 50,000 JPY.
We all hope that our special offer will bring you a smile and Happy Holidays!
Please rush to visit TOOLSESNSOR.COM & METROL EC, before our offer ends!
SPECIAL GIFT
"Instant Camera+ Film Set" for more than 150,000 JPY placing order.
"CASIO STANDARD: Casio's long -selling item" for more than 50,000 JPY placing order.
Get Special Offers Now!
Detail information for the special offer
Offer period: November 15th through November 26th, 2021 (Based on Japanese Standard Time).
Free shipping for all your purchasing in accordance with the offers during above period.
Special Gift is only once per each address/company/person, regardless of the number of orders.
This offer is valid only if you request for quotation through Metrol's direct sales website in between above period.
Quotation is valid for One month
Customers are to pay import tax and duties.
Excluding the partner companies.
Get your spare parts now!